ACTion Programs for Animals offers low-cost vaccination, microchip clinic March 11
DAPP, FVRCP vaccines free of charge thanks to Petco Love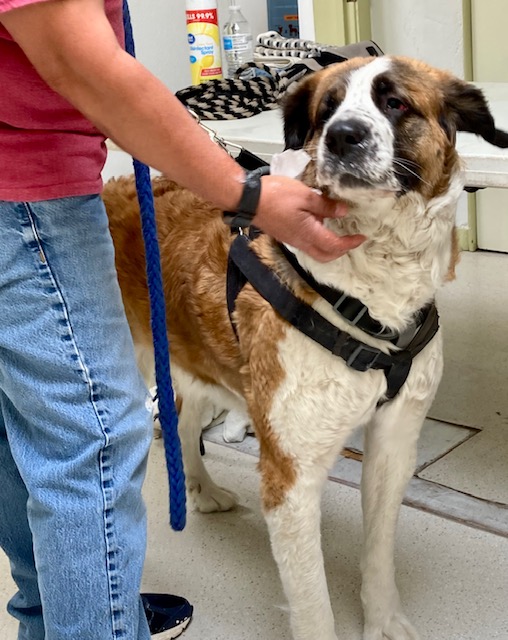 LAS CRUCES – ACTion Programs for Animals (APA) is hosting a low-cost microchip and vaccination clinic Saturday, March 11 from 9 to 11 a.m. at the APA adoption center, located at 537 N. Solano Dr.
Pre-registration is not required. The following will be offered for just $15 each:
Rabies vaccine (1-year dose; 3-year dose when appropriate)

Microchip

Bordetella vaccine
The following will be offered free thanks to Petco Love:
DAPP (Distemper, Adenovirus, Parainfluenza and Parvo) vaccine

FVRCP (Feline Viral Rhinotracheitis, Calicivirus and Panleukope) vaccine
These free vaccines are made possible through Petco Love's national vaccination initiative, which is providing one million free pet vaccines to its existing animal welfare partners, including APA, for family pets in need.
"Thanks to Petco Love's national vaccination initiative, APA continues to be able to offer free vaccines for pet owners in our community," said APA Executive Director Michel Meunier. "Also, our bi-monthly, low-cost clinics are the only clinics in the area that offer 3-year rabies vaccines for qualified animals, and that's what sets ours apart from other clinics."
APA is only able to serve well-behaved dogs on leashes and cats in carriers. Anyone bringing their pet to the clinic should line up in their car, and they will be called into the building when it is their turn. APA accepts cash or credit cards.
Questions? Please text or call 575-644-0505, email mail@apalascruces.org or visit apalascruces.org.
Anyone in need of a drive-up clinic should call the Mesquite Animal Vaccination Clinic at 575-650-2000 or the Animal Services Center of the Mesilla Valley at 575-382-0018.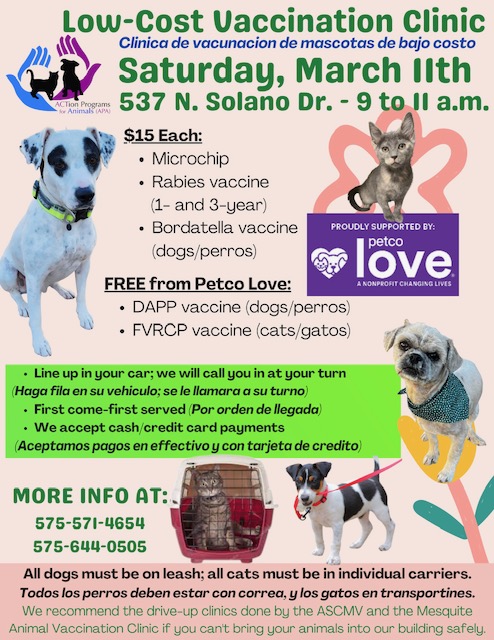 About ACTion Programs for Animals
APA is a progressive animal welfare organization seeking to improve the quality of life for companion animals in Doña Ana County and greatly reduce the number of unwanted animals impounded and euthanized at the municipal shelter as well as keep people and their pets together. Since May 2012, APA has rescued more than 5,700 animals. The majority of these have been dogs and cats/kittens pulled from the municipal shelter. APA is able to do this through volunteer work of rescue/foster coordinators, foster families, and donations. For more information about APA, email mail@apalascruces.org, call/text 575-644-0505 or visit www.apalascruces.org.