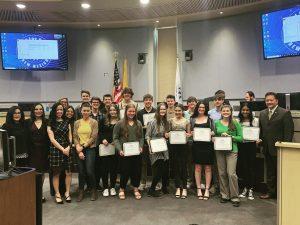 By April Anaya
When most people envision a student's senior year of high school, they may think of Friday night lights and letterman jackets, shopping for prom dresses, and sending off college applications. While some of these activities have certainly been a part of Shreeya Moolamalla's senior-year schedule, she and a group of committed high school students are also working to make a difference for youth in our community through the HandinHand organization.
The seed for the HandinHand organization was planted during Shreeya's freshman year in high school when Dr. Bartlett, a public speaker, was invited to Mesilla Valley Christian School during spiritual emphasis week. During his speech, Dr. Bartlett shared what it was like to grow up with facial deformities and his experience being raised in a Native American household as a victim of child abuse and neglect. Dr. Bartlett's speech sparked something in Shreeya. "His experience made me open to the fact that people in this world are going through unimaginable things," she said.
Armed with a newfound passion for service, Shreeya knew she wanted to focus on helping children and decided to organize projects centered around making an impact in the lives of children. "Children can't control their educational experiences, abuse, or being born into poverty," she said. The concept quickly gained momentum and Shreeya realized she could turn service projects into an actual organization, creating the HandinHand program. The mission for HandinHand is to build up the leadership skills of each teen involved and to aid the children of Doña Ana County by fundraising and advocating for different issues such as neurodiversity, health issues, financial problems, and more. "We seek to make a difference in the lives of the children we meet," said Shreeya.
Motivated to make her organization official, Shreeya asked her friends if they wanted to join her on her journey of service. She appointed a governing body and took her idea to the Community Foundation of Southern New Mexico. Although HandinHand did not have enough funds to set up a permanent endowment, their work closely aligned with initiatives that the Foundation had already undertaken. "Our team and our board of directors are committed to cultivating the next generation of young philanthropists," said Dr. Terra Winter, President and CEO of the Community Foundation of Southern New Mexico. "By creating a designated fund at the Foundation for the HandinHand program, we are empowering youth to get involved in bettering their community and developing future leaders, board members, and advocates."
HandinHand members have already executed many service projects throughout our community. One of the first projects, a book drive for Jardin de los Niños, added more than 50 books to the organization's library. They also hosted a fall festival for foster children through the Bair Foundation, led a reader's theater for La Casa, and volunteered to tutor and play sports with Boys & Girls Club of Las Cruces members. Most recently, they hosted a science day at Valley View Elementary School where they taught students how to make strawberry DNA and elephant toothpaste.
As Shreeya nears graduation, she is actively planning how the group she founded will continue making a difference when she is away at college. She plans to create a succession plan, recruit high school students, and train new leaders to help set the organization up for future success. "I will be attending Vanderbilt in the fall where I will double major in Neuroscience and Business, so even though I will not physically be in Las Cruces, I am still dedicated to supporting the program and helping to instill a passion for service in local teens," said Shreeya. As the only local program of its kind in southern New Mexico, the group also hopes that HandinHand could be used as a blueprint for other student groups throughout the state to establish their own youth in philanthropy programs.
For more information on the HandinHand organization and designated fund housed at the Community Foundation of Southern New Mexico, please call (575) 521-4794 or visit https://cfsnm.fcsuite.com/erp/donate/list.
KMVR Magic 104.9- Playing Today's Biggest Hits