Construction Began Monday, January 9, 2023 on I-25 Business Loop Reconstruction Project
Truth or Consequences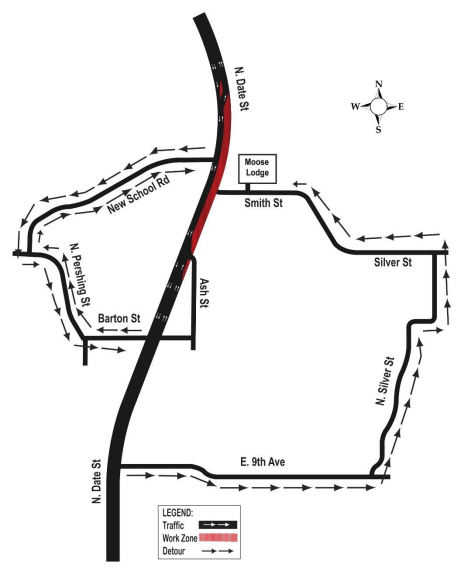 Update as of January 6, 2023
NOTE: All construction is weather permitting and is subject to changes without notice.
CONTACTS for questions and concerns or to sign up for email updates on the project: Patti Watson, 505-245-3134 office; 505-269-9691 cell; pattiw@cwastrategic.com Ty Stevers, 505-245-3138 office: 505-417-9989 cell; tys@cwastrategic.com
• Traffic on North Date Street will be reduced to one lane in each direction (northbound andsouthbound) and will be shifted to the west (southbound) lanes from north of New School Road to Ash Street
• Local traffic on Smith Street will be detoured to 9th Street
• Local traffic on New School Road will be detoured to Barton St.
Motorists are encouraged to use extra caution in the construction zone, obey lower posted speed limits and allow extra time to reach their destinations. Regular work hours will be 7 a.m.-5 p.m. Monday-Friday although the contractor may work longer hours or on weekends as needed. Access will be maintained to all businesses during construction.
About the Project: The project is designed to improve sight distances at turnouts and intersections, address speed issues, provide
connectivity for pedestrians and bicyclists and improve drainage. The project includes roundabouts at Smith Avenue, New School Road
and NM 181. Construction is expected to be completed by May 2024.
KVLC 101 Gold- 101.1 FM- Classic Hits