Updated-

Reports are coming in from witnesses across the Mesilla Valley that the Bosque (ie- cluster or group of trees) area near the Rio Grande is on fire. Smoke can be seen from all directions in the surrounding Las Cruces and Southern New Mexico regions. These pictures are from Las Cruces Today staff near South of HWY 70 on I25 near Lohman Ave exit in Las Cruces.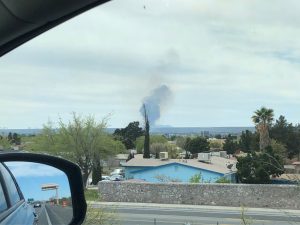 The reports were first made around 12:45pm online on Facebook. 
A phone call to non-emergency dispatch has confirmed that emergency fire crews are on site. We will update this article as more information is shared by the proper County officials.
It should be noted that this week state forestry officials are recognizing National Wildfire Awareness Week. You can learn more about how to protect New Mexico lands here.