Luck of the Irish Continues to End of March for Local Rescues at ACTion Programs for Animals
ACTion Programs for Animals offers St. Patrick's spring adoption special through end of March
Animals are available for adoption for just $17
LAS CRUCES – March may just be a lucky month for dogs and cats waiting for a forever home. ACTion Programs for Animals (APA) is offering the St. Patrick's Spring Adoption Special March 17 to 31. With the exception of small dogs, all dogs and cats may be adopted for just $17.
"We have many P.A.W.S. (Prisoners and Animals Working Toward Success) prison-program graduate dogs, as well as cats and kittens waiting for a home," said APA Executive Director Michel Meunier. "With the changing season, we will soon be inundated with kittens. Adopting from us this spring will help us open up space to save more lives."
APA took over the administration of the P.A.W.S. prison program in 2016 in partnership with the Southern New Mexico Correctional Facility. Inmates train shelter dogs in basic obedience and potty training to ready them for their forever homes. APA has sent hundreds of dogs to this program for rehabilitation and training.
To meet APA's adoptable animals, visit the adoption center at 537 N. Solano Dr. from 11 a.m. to 3 p.m. Tuesday, Wednesday, Thursday or Saturday, or call 575-571-4654 to schedule an appointment. Adoptable animals may also be viewed at apalascruces.org. For questions, please text 575-644-0505, leave a message at 575-571-4654 or email mail@apalascruces.org.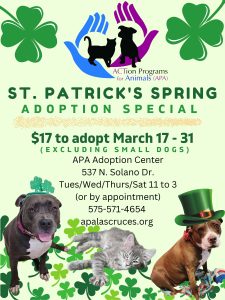 About ACTion Programs for Animals
APA is a progressive animal welfare organization seeking to improve the quality of life for companion animals in Doña Ana County and greatly reduce the number of unwanted animals impounded and euthanized at the municipal shelter as well as keep people and their pets together. Since May 2012, APA has rescued more than 5,700 animals. The majority of these have been dogs and cats/kittens pulled from the municipal shelter. APA is able to do this through volunteer work of rescue/foster coordinators, foster families, and donations. For more information about APA, email mail@apalascruces.org, call/text 575-644-0505 or visit www.apalascruces.org.
News Talk 92.7 FM KOBE 1450 AM- Talk, Done Right