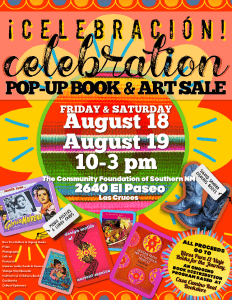 CELEBRATION/CELEBRACIÓN!
Casa Camino Real Bookstore will offer a Pop-Up Sale of Books and Art. The event benefits Libros Para El Viaje/Books for the Journey, an ongoing book distribution program based at the bookstore which is located at 314 South Tornillo Street in Las Cruces, NM.
Dates are Friday, August 18 and Saturday, August 19 from 10 a.m. to 3:00 p.m. The Pop-Up will be located at the Community Foundation of Southern New Mexico offices located at 2640 El Paseo Rd. Las Cruces, NM 88001. 575-521-4794. www.cfsnm.org
Featured will be folk art, original and vintage postcards, ephemera, prints, paintings, photographs, posters, Mexican lobby cards and posters, vintage vinyl records, jewelry, and rare and special books including many signed First Editions focusing on Chicano/a, Latino/a, Native and Indigenous, Southwestern, Border, New Mexican & Latin American art, culture, and related themes.
Since 2018, Libros Para el Viaje/Books for the Journey has distributed over 40,000 books to Refugee, Migrant, and Asylum families with locations in Anapra, Palomas, Juárez, México, as well as locally to children, youth and families at El Caldito Soup Kitchen, the Border Servant Corps, Peace Lutheran Church, St. Albert the Great Newman Center, El Calvario Methodist Church, Alma de Arte School, Casa del Sol Senior Center, Anthony Elementary School, Raíces del Saber Xinachtli Community School, Desert Hope Apartments for the Formerly Unhoused, Weaving for Justice, various local Little Free libraries, and many others community organizations, schools, and individuals.
During the pandemic, several drive-by book giveaways took place in front of Casa Camino Real bookstore. Thousands of books were distributed to children, teens, and adults.
Book donors include the Children's Book Council, REFORMA, The Children's Reading Alliance, many major U.S. publishers, countless presses, bookstores, booksellers, agents, authors, schools, libraries, and individuals of all ages.
Our motto is: Leer es Vivir/To Read is to Live.
Our commitment is to deliver books to children, young people, and adults, wherever they are housed.
Join us for this Celebration of Art, Books, and Culture!
If you would like to volunteer or donate items, please contact Denise Chávez, Casa Camino Real Bookstore, 314 South Tornillo Street, Las Cruces, New Mexico 88001. 575-649-9173. comezon09@comcast.net
News Talk 92.7 FM KOBE 1450 AM- Talk, Done Right