Advertisements
Square Peg Podcast gets to know the Co-Director of the Transgender Resource Center Of New Mexico, Adrien Lawyer.
The Transgender Resource Center of New Mexico provides support, community, and connection to transgender, gender nonconforming, nonbinary, and gender variant people and their families through advocacy, education, and direct services.
If You Need Help Right Now
TRANS LIFELINE
(877) 565-8860
AGORA CRISIS LINE
(866) HELP-1-NM
TREVOR LIFELINE
(866) 488-7386
NM CRISIS & ACCESS LINE
(855) 662-7474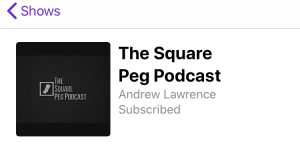 You can join host Andrew Lawrence for a new episode of the Square Peg Podcast every Tuesday this Fall with our Audio on Demand and on Apple Podcasts. Having real community conversations with Mold Breakers, Trail Blazers, and Takers of Roads Less Traveled.