Post Catwalk Fire Rehab Completed
 Glenwood, NM. March 30, 2021—The Gila National Forest, Glenwood Ranger District has completed the post-fire rehabilitation in the Catwalk Recreation Area. The three-acre Catwalk Fire, which occurred on March 13, 2021, burned off the fine fuels and leaf litter that was aiding in stabilizing the slope and holding it from eroding into the creek along the path.
Post-fire rehabilitation included removing hazard trees, filling in an old vault toilet that was exposed by the fire, filling in stump holes, and placing biodegradable matting. Natural Resource specialists assisted in the placement of matting that will assist in slope recovery by catching sediment, decreasing rollout, deflecting intense precipitation, and creating a viable seedbed.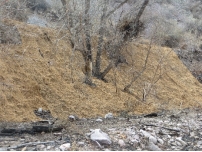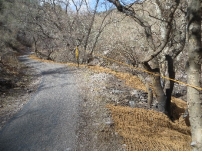 When you are visiting the Catwalk, please do not walk on the matting, allow children or pets to play on the slope. It will take approximately 12-18 months for the vegetation to reestablish and allow for more natural erosion control.
For information on the Gila National Forest, check out our website at https://www.fs.usda.gov/gila or join the conversation on Facebook and Twitter.
KVLC 101 Gold- 101.1 FM- Classic Hits